Today I wore one of the dresses Yokoo gave me and I looove it. As soon as it came in the mail I knew I had to put it with these Pamela Mann tights from mytights.com. Pink is a rare species of plaid!
And a warning if you plan on buying the
tights
: The magenta is MUCH more purple in 3-D life. OMG, life exists outside the internet?
Had to add a different color between the patterns just cos it felt wrong otherwise. Black pencil skirt over my purple tutu skirt. Also my black cape because there wasn't quite enough black.
Yesterday I received some fun things in the mail from
Jen
, including some pins she got in Japan (I'm wearing 2 here) and a bunch of music + Bob Dylan stuff + Sprouse for LV-esque dress +
THAT
Vogue Alice in Wonderland editorial with Natalia (sooo happy to have it in print).
One pin has a bunny and stars and the other has the Chanel logo. It's fake, obvz, but I love how awesomely stupid it looks with totally non-Chanel things. Non-feminine and unclassy things, stuff that disagreeds with their "A girl should be two things-classy and fabulous" (personally not my kind of thing) aesthetic. A few people at school were all RIP OFF BLEH OFF WITH HER HEAD but the irony is so so good. Anyway, the pins were pink and black so I thought they'd be nice to add.
Thanks, Jen!
These shoes have enslaved me and are all I wear nowadays.
And a neat picture (full ed
here
, giving me ideas for my Fisheye camera and bedroom walls!)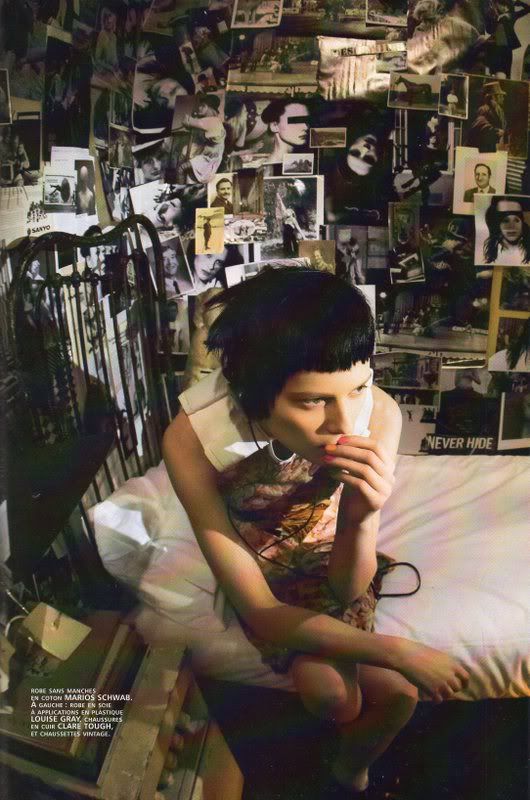 [foto decadent]
dress and pins, gift. cape, secondhand. pamela mann tights via mytights.com, gift. gap tutu skirt. childhood closet black skirt. slow & steady wins the race shoes.