Well, I've no clue what
that
was all about. Who is "Tomas?" He sounds like a fine fellow, anyway. Judging from his looks. Handsome! Could make a pretty girl too. And I think if he was a girl he would look very wonderful in lots of Comme and Westwood. Especially if it was free and in plentiful amounts.
Anyway! Yesterday I met up with
Spencer
and had lots of fun. We browsed music and bought music and talked about school and blogging and blogging and school and how Twilight is a passing fad and nothing more. Like Hanson, but less awesome. I don't even REMEMBER Hanson, I just remember my sisters loving it and me being over in the corner trying to learn all the words to all of their songs, Britney Spears, and the Spice Girls, so as to be cool with the ~elementary crowd~ because watching Recess and chewing Bubbilicious STILL WASN'T ENOUGH. It was SO stressful being a toddler in the 90s.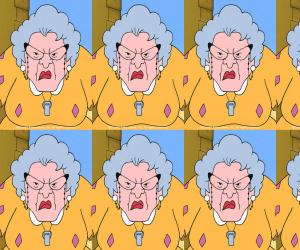 shit, it's finster
Speaking of the Spice Girls, Britishness. Topshop sent me a nice package the other day of this shirt and tote. The tote is perfect, fits records and has lots of lovely little doodles that make me happy. You can just barely see lovely Katie Grand peeking her lovely head in at the bottom, next to a lovely cupcake. Hiiiii Katie Grand.
Messed around with these pants the other day too. I thrfited them without trying them on first so they're pretty big, but were fairly cheap and I'll grow into them, like..eventually or something. For the time being I just put in lots of pins and decided they're SUPPOSED to look all kooky and with crooked lines. People always talk about "wardrobe basics"...I do not own one Hanes tee or black pencil skirt or black blazer or a regular pair of skinny jeans or boyfriend jeans but I DO have safety pins. And that is all I need.
These all follow a certain kind of theme for me but anything that is black and white can obvz be worn billions of ways.
pipettes tee/button shirt, gift/DIYed headband
topshop tank/DIYed vest
thrifted hat/sweatshirt found on our banister or something
thrifted moto vest
obesity and speed tank
thrifted blazer/slow and steady wins the race sunglasses


I got this blazer from the SA in 3rd grade for my Halloween costume as Willy Wonka. It's been sitting around in our basement but I just found it again with lots of little "golden tickets" inside. This would probably be cute if I wasn't a tiny weirdo that tried feeding them to dogs rather than handing them out during the school costume parade.