I don't know if stories about plastic surgery, trends, or dating after 40 will ever really appeal to me but in Harper's it's good for what it is and of all the magazines that do that kind of thing, Harper's is the least annoying about it. I generally don't like it when magazines have how-to-wear guides (especially about "ageless style!") but for the people who do like them, Harper's puts together flattering and usually fun outfits, and for people like me, the guides are very appealing visually. Obviously everything inside The Well is good.

Highlights:

-
Story on Susan Boyle
which, honestly? It's hard to read it and not like her. Like how thinking
UP
was stupid would mean one does not have a soul. You have to like her after reading it. She jokes about herself and is modest and ~quirky~ and I like her cat.
-
Naomi Campell
in Africa
by
Jean-Paul
Goude.
I was on the fence about these for a while because I couldn't tell if she was supposed to be portrayed as an animal or just having fun with them. In the
controversial
Amber Rose pictures Jean-Paul Goude just shot for
Complex
, she is in a cage, shackled up, and naked. Here it seems to be more about the clothing, and Naomi is racing or jumproping with or sitting on the animals and not acting like one...I think? What are your thoughts?
If we're going to ignore that aspect of it, I do think the photos are neat as fashion photographs. I mean, look at how her arms and legs are positioned here...that's kind of perfection
.

EDIT:

Ooooopsydoops, the Complex story is by MATT DOYLE, not JPG.
My bad!
-
"Fashion..and all that jazz"
has a cheesy title but otherwise
is just plain awesome. The styling is impeccable and, um, Peter Lindbergh! Hi! Plus Chanel and Arlenis look so good!
LOL IKNORITE
-
Peggy Guggenheim's Venice
Um, ok, HI. It's inspired by Peggy Guggenheim, shot by KARL in VENICE which is BEAUTIFUL, model is LARA STONE, in two photos she is with a DOG, and clothing credits include COMME and PHILIP TREACY. So, like, yeah. I die. I think one of my favorite editorials of all time.
-
This interview where Karl pretends to be Coco
Love! He says "Some idiot Karl" which gives me a warm fuzzy "oh, I love people" feeling, like the one I got when I watched
that one video interview
he did where he seemed to actually be enjoying himself and the interviewer wasn't being a sociopath and/or Charlie Rose. People are upset about his anti-feminist comment in this Coco interview but it truly came off as a joke to me, and as if he was more making fun of people who think all feminists are ugly than feminists themselves.
-
"Thriller Fashion"
is a Jacko-inspired ed and kind of epic. Aggy is cute, styling is good, and so far all the tributes to him have been articles or on TV so this is different and I like that. Plus they didn't ass it up by including an article analyzing him, which I think we're kind of tired of by now, y/y/y/y/y/y?
-
"From Seventh Avenue to Sesam
e Street"
Probably my favorite feature in here! Each page (or in DVF's case, spread) is of an American designer somewhere on Sesame Street with a character from the show and a model wearing one of their designs. They're all SO.GODDAMN.CUTE. and everybody is smiling instead of trying to ~play it cool.
-

"New Pieces You'll Love Forever"

The title sounds like another SHOP YOUR CLOSET BE A RECESSIONISTA! piece (though that is in another part of the issue) but it is IN FACT something TOTALLY DIFFERENT: "Buy classics!" I have not read the article, which I probably should if I'm going to criticize it, but I know I am not going to spend $3,000 on a trench coat because it's a "classic," or, something everyone else has, and if this article was written for the average American woman, I'm not sure if she will, either. I don't wanna be too snarky so I will instead babble on about the accompanying editorial with
mah gurlll Jessica Stam, but I like to call her

Jessie

when we hang out and are bffs. In my head. *shuffles feet with hands in pockets* Anyway, the colors are amazing, the styling makes me

want
to spend $3,000 on a trench coat, they matched a Comme coat with Prada waders,

those

Dries van Noten sunglasses with the nordic platform Proenza shoe (my favorite of the season), and-brace yourselves-there are really cute dogs! And, of course, Jessie looks totes fab, as always, when we hang out. All the time.


-"Most Wanted"

another one that is visually incredibly rad and, like most fashion spreads, inspiring in the feel it gives off and not because it's advertising a $640 bangle. The whole thing is
floating red and black accesories with jumping red and black playing cards, and it looks cool.
-"

Fabulous at Every Age: Leighton Meester"

I don't really have a problem with her to begin with and the article isn't ~edgy by any means, so if anything it's a nice read for the bus, or taking a dump, if you do that kind of thing. To be honest her interview with

Seventeen

was more interesting to me.

Harper's

did make her look like an old lady in some of the photos which I think is cool and would have made for a more eyecatching cover than the one chosen.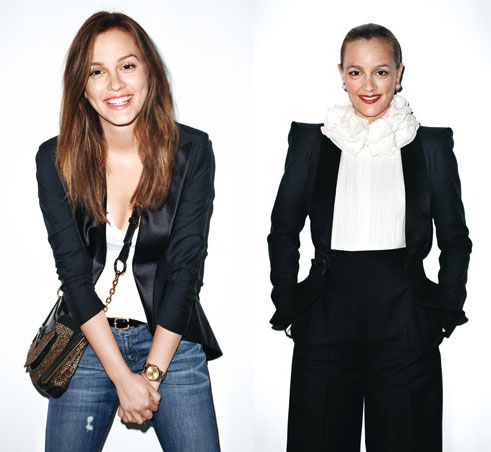 -"Schiaparelli: The Shocking Truth"

Ok, I haven't read this one either but it seems really interesting and if not there is a lovely picture of Siri Tollerod with a red glove on her head that is stunning, at the very least.
-

Suzy Menkes writes about the 80's

I preferred the article about 80's redoux in the September issue of the NYTimes' T Magazine but the accompanying editorial here is good and the composition I think is especially great. Plus Suzy Menk
es seems like she would be very fun to bake cookies with, or comb bangs with, or something.

...And, lowlights, since I'm an optimist!


-"Urban Chic"

Really? Still? We're still talking about Urban Chic? The whole shoot is kind of bland and I feel bad that the model had to work with such a boring setting.
-

"Buy designer clothes because our magazine survives when we are good at advertising them."

With an editorial by Terry Richardson that is pretty meh. Yeah.
-

"Cheap and Cheerful."

This is where the "Recessionista!" talk begins.


To sum up: Worth the money ($5) if you live in the US, and if you don't and it costs like $15 for you then I would spend the money on Vogue Nippon or something. Harper's Bazaar is one of very few good American fashion magazines and the September issue is, if I may use
The Proud Family
lingo, off the yeezy.
~

Fin

~
photo sources: tengossip, i love kdia, gossiprocks, bellasugar,
thefashpack